Event details
Wednesday | July 20, 2016
6:30 pm - 9:00 pm
Kailua Hongwanji Mission 268 Kuulei Rd Kailua, HI 96734
(808) 536-7044
A "Talk Story" event with Dr. Jeff Wilson presented by the Buddhist Study Center and the Honolulu Hongwanji Council. Everyone is welcome. Event is free. Donations are accepted.
About this Event
"Talk Story" is a unique local cultural experience in which people share their life experiences, developing relationships that build and strengthen communities. At the Hongwanji, we invite special Dharma teachers to lead a conversation that furthers our understanding and experiences on the Nembutsu Path in an open and welcoming setting.
About Jeff Wilson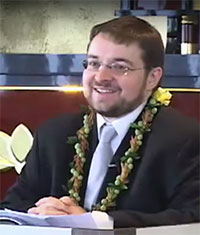 Jeff Wilson is associate professor of religious studies and East Asian studies for Renison University College, at the University of Waterloo, Ontario, Canada . He has written several books and numerous articles about the interaction of Buddhism and various aspects of North American culture, and published pioneering research in the history of same-sex wedding ceremonies. Jeff teaches courses on religion in North America, East Asian religion, and theory and method in religious studies at the University of Waterloo. He is active in the American Academy of Religion, and does media appearances and radio interviews to provide an informed perspective on issues of religion in contemporary society.
Professor Wilson's book, Mindful America, The Mutual Transformation of Buddhist Meditation and American Culture (2014) is the first comprehensive exploration of the practice of mindfulness in America. It outlines how Buddhism influences and is appropriated and adapted by non-Buddhist cultures in the United States and elsewhere.
Mindfulness is the most popular aspect of Buddhism in contemporary America, and secularized mindfulness practices are now embedded in schools, hospitals, therapy, the military, and many other aspects of our culture. From stress relief to Star Wars, mindfulness has become an unavoidable part of our society. But what is mindfulness, and where does it come from? What changes has it made on America, and what changes has America made on mindfulness? What are its upsides and downsides? And how can secular mindfulness practitioners and active Buddhists learn from and support one another?"
Directions to Kailua Hongwanji Mission
From Honolulu, take Pali Highway to Kailua. Enter Kailua town on Kailua Road and proceed on Kuulei Road. Shortly after the intersection of Kuulei Road and Maluniu Ave, turn left into a lane at The Bike Shop and 7-11 store.