Event details
Saturday | March 18, 2017
9:00 am - 12:00 pm
Hawaii Betsuin (Annex Temple), 1727 Pali Hwy, Honolulu, HI 96813
HONPA HONGWANJI HAWAII BETSUIN
SPRING OHIGAN TALK STORY with
Bishop Eric Matsumoto
AWARENESS IN JODO SHIN BUDDHISM:
SHARING JOY AND RESPONDING IN GRATITUDE
ABOUT EVENT
"Talk Story" is a unique local cultural experience in which people share their life experiences and develop relationships that build and strengthen communities. At the Hongwanji, we invite special Dharma teachers to lead a dialogue that furthers our awareness, understanding and experience of the embrace of wisdom and compassion. Historically, Rennyo Shonin (8th Head of the Honpa Hongwanji) effectively spread the teachings of Shinran Shonin (Founder, Jodo Shin School) through facilitated dialogue sessions referred to as "Ko Groups".
ABOUT THE DHARMA TEACHER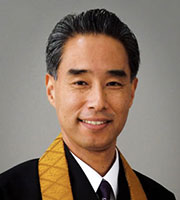 Eric Matsumoto is the 16th Bishop of the Honpa Hongwanji Mission of Hawaiʻi. He is the third youngest minister in the history of the mission to assume the title of bishop. Born and raised in Honaunau on Hawaiʻi island, he is a graduate of Konawaena High School, University of Hawaii at Hilo and a recipient of the Crown Prince Akihito Scholarship. He and his wife, Tamayo, have two children: daughter, Chika and son, Caden.
Bishop Matsumoto is working to "grow" the influence of Shin Buddhism and the Hongwanji in our community. His ministerial experience and gentle presence make him an excellent Dharma teacher.
Morning chanting 8:00 a.m.; Event registration at 8:30 a.m.
Registration Fee: $10:00 per person (Includes refreshments and light lunch)
registration form
Contact Hawaii Betsuin Office for more information – 536-7044